In the New York Times in August 1977, Woody Allen observed that "Showing up is 80 percent of life."
In the case of electing a Legislature that respects Taxpayers, showing up to vote is EVERYTHING!
As former President Obama opined: "Elections have consequences."
In March 2019, GST reported that The New Hampshire Advantage is Under Attack!
To read the list of bills that raised that concern, click here.
We also said in March 2019 that "We Need to Elect a Taxpayer Friendly Legislature in 2020!"
Let's review the 2018 election results that gave Democrats control of the Legislature and Executive Council.
Following is an analysis of vote totals for the 2016 and 2018 elections for various offices.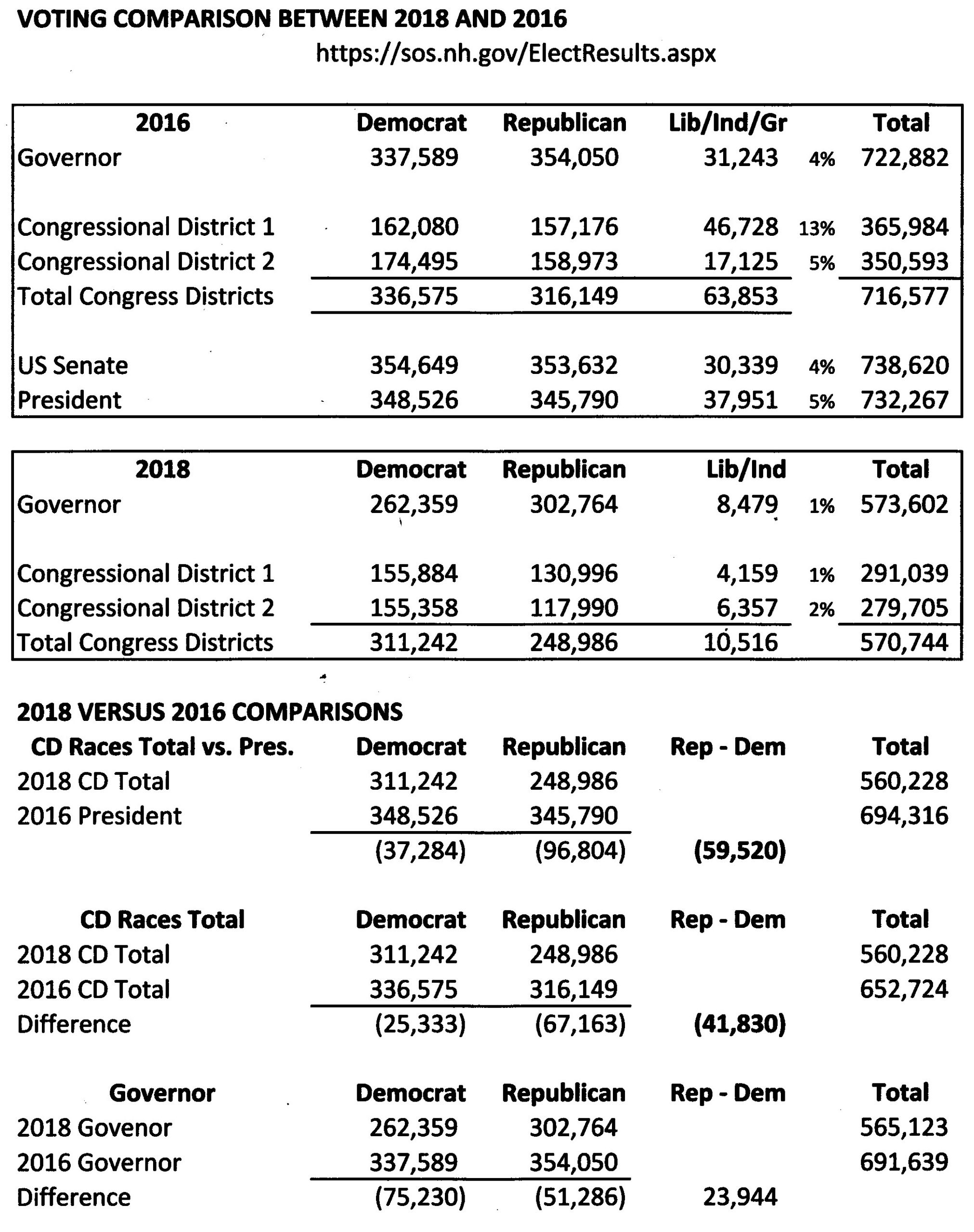 Mid term elections like in 2018 typically have lower turnout than Presidential elections.
– 345,790 people voted for Trump in 2016. Only 248,986 voted for Republicans for Congress in 2018.
– 348,526 people voted for Clinton in 2016. Of them, 311,242 voted for Democrats for Congress in 2018.
Democrats for Congress got 37,284 fewer 2018 votes than in 2016. Republicans got 96,804 fewer votes.
For US House seats, 2018 Democrats were down 25,333 votes from 2016, Republicans down 67,163 votes.
Democrats showed up for the 2018 election in greater numbers than Republicans.
That gave us a Democrat House, impeachment, and the Take Responsibility for Workers and Families Act.
In NH, that lack of enthusiasm impacted down ballot races for NH Senate, House and Executive Council.
The result was Democrat control in Concord and the cornucopia of bad legislation mentioned above.
We need to elect a Taxpayer-friendly Executives and Legislatures in Washington and Concord!
For the 2020 election, remember what was done by Republican majorities in Washington and Concord.
Things like the Tax Cuts & Jobs Act. and reduced business and energy taxes and regulations in NH..
We all need to Show Up on November 3, 2020!
Posted by GST Chairman Ray Chadwick